The Psychic and The Medium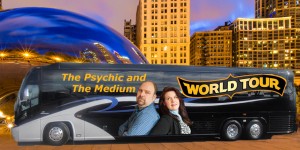 Danger T. The Psychic and Brandie Wells, The Medium are Co-hosts on A1R International Psychic Radio Network, They have been bringing forth messages from spirit to heal the past and reveal the future on their radio show "Soul Central" for the last two years. Now they are taking it LIVE to reveal these "Messages From The Stars" via spirit galleries to connect with your Angels, Spirit Guides and Loved Ones for audiences across the country.
Messages From The Stars: Concord, NH
Thursday, May 3rd 6:30pm – 8:30pm at The Hatbox Theatre
Messages From The Stars: Portland, ME
Tuesday, June 12th 6:30pm – 8:30pm at Portland Stage
Messages From The Stars: Chicago, IL
Wednesday, May 23  
6:30 pm

 – 

8:30 pm

 at  Theatre Wit
Messages From The Stars: Nashville, TN
Wednesday, June 27th 6:30pm – 8:30pm  at Union Station
Brandie and Danger come together to collaborate for these events. They each have different abilities and ways to connect and receive information to help people on their individual life's paths, yet they have the uncanny ability to deliver the same messages in different ways. Their work is always for the highest good, in order to help everyone evolve and grow.
Brandie Wells, Compassionate Clairvoyant, is known for her various clairvoyant abilities. She is a Psychic Medium, Animal Communicator, Angelic Reader & Healer, Spiritual Coach, Palmistry Teacher, Fairyologist, Paranormal and Cold Case Investigator & Event; Party Planner. She owns a business in the heart of downtown Keene, New Hampshire, USA, known as Keene Intuition.
Danger T. is an Intuitive/Psychic who is trained in energy work, and is a Certified Reiki practitioner, as well as an Ordained Minister, offering psychic readings as well as spiritual advice. He thrives to share his abilities and knowledge to assist people with their individual life paths. He is well versed in many areas of spirituality, as well as Hypnosis, Psychometry and Meditation. He connects with spirits through Mediumship, yet he receives his information psychically. He enjoys teaching others in order to help them in their daily lives, and loves to spread the universal light and love.
Click below to listen LIVE on Tuesday nights at 9:30 p.m. EST. You are welcome to call in for a free on-air psychic reading. Call 888-454-2751 (ASK1)
To be a guest on "Soul Central," send an e-mail to Brandie and Danger at : ThePsychicAndTheMedium@Gmail.com
Check Out Our Archived Shows Below:
Scroll up/down to find "Soul Central with Brandie & Danger" and click on it to listen to our past shows.